Before & After School Club
Before and After School Care
Oakridge Primary School offers a range of before and after school care. This in–house care provision is held on School premises with all staff DBS checked along with holding the relevant qualifications, experience and First Aid Training. Please pre-book all after school care via the School Office.
An 'Emergency' constitutes a session which is not a regular pre-booked session. However, with all emergency bookings we can not guarantee a place for all children due to staffing ratios.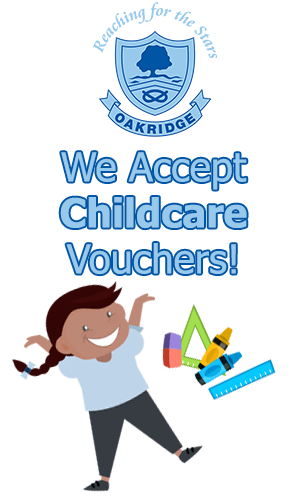 8 O'Clock Club
Our before school club, the 8 O'Clock Club, opens at 8.00 am to 8.55 am at a cost of £5.70 per session. An emergency session is available at a charge of £6.70 per session. These prices are from September 2022.
If you need Emergency Before School childcare you may just turn up any time from 8.00am onwards. This does not need to be pre-booked.
All other care provision is provided by Little Oaks.
Little Oaks Sessions
Little Oaks after school care is open during School term time only, with two sessions available, first session until 4.20pm or full session until 5.50pm. Emergency sessions should be pre-booked by contacting the School office or directly with the Little Oaks staff.
Little Oaks Fees
First session until 4.20pm - £5.70
Full session until 5.50pm - £10.90
Emergency sessions are available at an additional charge of £1 per session
For further details of our day care availability please see our Wrap Around Care page.
Telephone Numbers:
8.30am – 4:30pm (01785) 337300
4:30pm – 5:50pm (01785) 337300 / (01785) 337304